Cycling
Bali Cycling Tour is one of the Bali Activities Tour by offer amazing selection Bali Bike Ride Trip package for downhill cycling bike from Kintamani Volcano, Balinese Local Village and Jatiluwih Rice Paddy. Bali Cycling Tour offer a truly unique and authentic bicycle trip by combining sightseeing, coffee plantation tour and cultural insight with cycling activities through the unspoiled breathtaking countryside.The Cycling tour will take you far away from the regular tourist itinerary and "off the beaten track" deep into rural Bali where you will be able to witness firsthand the daily life of the Balinese people, their local customs and rituals as well as their age-old traditions.We Bali Tour Company would like to give a interesting experience, education, exercise and fun of Cycling Trip. Our goal is to help you experience Bali's best kept secrets - the excitement, exploration, breathtaking countryside and genuinely warm-hearted local villagers up close and personal. We believe that this begins with safety – using only the finest equipment, consistently maintained bicycles, and tours led by professional, English speaking guides who are trained in basic first aid, mature, responsible and who know how to show you the time of your life rain or shine!Bali Cycling Tour is designed for travelers who seek to godeep into Bali's Countryside and offer wide range selection of cycling tracks are available for you. Not only rural villages and rice paddies, we offer you more, off-road paths, secret back roads, dense plantations and bamboo forest are just a few of them. Our routes are also flexible and can accommodate any level of experiences. From the easiest to the most challenging are available depend on your requests and preferences.During the Bali Bike Ride Tour you can stop whenever you choose to take photos and visit the local people. You will be able to find out detail about village life include rice and vegetable farming, ceremonies and family life or watch wood carver at work and visit traditional Balinese compound to look its daily routine. The Indonesian Lunch will be serve in modern Balinese Family environment. After lunch we will take you back to your hotel.
Choose Our Bali Cycling Tour Package :
Bali Downhill Kintamani Cycling Tour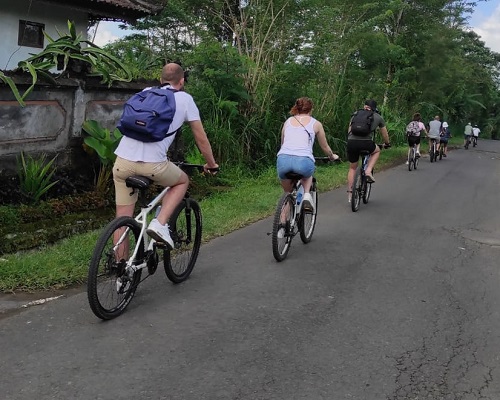 Bali Downhill Kintamani Cycling Tour is a Bali Cycling Tour package to enjoy ride bike from downhill cycling from Kintamani area surrounded by fresh air and very green scenic trough the village, temple, rice terrace in Bali. includes a light breakfast overlooking Gunung Batur Volcano and Lake before heading to the start point. Feel the exciting Bike Ride Trip with us Bali Cycling Tour!!!
Note : Minimum 2 Person
Balinese Village Cycling Tour
Balinese Village Cycling Tour is a Bali Cycling Tour package to enjoy Paddle the bike in to Balinese Village and stopping along the way to chat with village woman and farmers amid their daily work routine. and to laugh at the antics of the small children. Balinese Village Cycling Trip takes you through the back roads of the famous Carangsari Village where you can glimpse the real life and culture.
Note : Minimum 2 Person
Bali Jatiluwih Rice Paddy Cycling Tour
Bali Jatiluwih Rice Paddy Cycling Tour is a Bali Cycling Tour package to feel the experience ride bike in to the famous Jatiluwih rice terrace in Bali islands. Paddle your bike through the world heritage site of jatiluwih, the most beautiful terraced rice paddies in the world. You will be able to find out detail about village life include rice and vegetable farming during this amazing Cycling Trip.
Note : Minimum 2 Person
Bali Cycling Tour what to bring :
A small rucksack / backpack for easy access to video / camera.
A hat to put under your helmet is advisable and sunscreen.
A change of clothing short pants, T-shirt.
Wear running shoes or secure sandals and sun glass.
Bali Cycling Tour Includes :
Air conditioned Hotel Transfer
Fully serviced mountain bikes, Gloves and Safety Helmets
Soft drink,mineral Water and snack en route
Friendly. knowledgeable guides to ensure a amazing day
Indonesian Lunch at modern Balinese Family environment
Insurance
Terms Payment
Payment is Cash Payment
Payment is on the day itself with our driver
Payment with other currency will convert based on daily exchange rate
Booking
Noted : (*) is required.
Booking Via WhatsApp
Booking Via Email